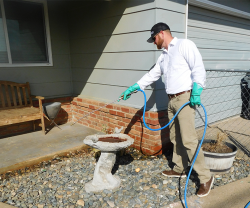 When you spot a pest in your home or business, there's no time to wait. Take charge of your property's safety and contact Hobbs Pest Solutions for top-quality pest control in Chico, CA. Our team is skilled in safely and effectively removing pests and rodents of all kinds while securing your property against future infestations.
Offering Comprehensive Pest Control
At Hobbs Pest Solutions, we're prepared for it all, whether you've discovered an infestation of ants, fleas, flies or roaches, you're suffering from bed bugs, or you hear rodents scratching and scuttling in the walls.
We offer customized solutions for each individual customer, all for affordable prices. No longer do you have to put up with random infestations! Our rodent control and removal services in Butte County, CA both eliminate pests and utilize prevention strategies to keep your home or business safe and pest-free.
We Prevent Pests Inside and Out
In addition to fumigation, bed bug removal and other interior pest control services in Chico, CA Hobbs Pest Solutions can also take care of pest infestations outside! We accomplish this through lawn services, including mowing and trimming, weed removal and fertilization. When your lawn is clean and tidy, your entire property is likely to be, as well!
To schedule an inspection or get a free estimate on any of our pest control services, call us today at (530) 809-5628 .