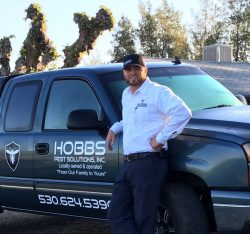 Rodents and pests pose threats to your building's inhabitants in more ways than one. At the first sight of a pest, call Hobbs Pest Solutions! Our skilled team offers a full suite of pest removal services in Oroville, CA, from pest eradication to preventative services and lawn maintenance.
Safe and Efficient Pest Removal
If left untreated, pest problems can grow quickly, posing risks to your health and building safety. At Hobbs Pest Solutions, we offer comprehensive extermination services to get rid of all types of pests, including ants, bed bugs, fleas, flies, roaches and spiders!
Larger pests pose even more of a threat, which is why we're proud to provide rodent control and removal services to residential homes and commercial businesses in Oroville, CA. We'll work with you to remove rodents safely and efficiently while checking your property for potential risk areas where infestations can start anew.
Lawn Work for Extra Protection
We've dedicated ourselves to removing and preventing pests inside and out, which is why we also offer lawn care services! Our team will mow, trim and edge your lawn to keep it tidy and pest-free. We also fertilize and remove weeds so pests aren't tempted to make your lawn their new home.
If you need pest or bed bug removal in Oroville, CA and also servicing the Yuba County, and Sutter County areas or you wish to learn more about our pest removal services, contact us today at 530-624-5390!