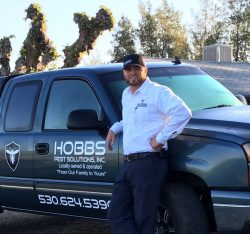 Once you spot a pest on your property, it can be hard to rest when you're unsure of how deep the problem lies. That's why Hobbs Pest Solutions is here to help! We offer comprehensive pest removal services for both homes and businesses. Whether you need rodent, ant or bed bug removal in Magalia, CA, our team will secure your property using the safest and most effective methods available.
Customizable Pest Solutions
Every property is unique, which is why Hobbs Pest Solutions offers customizable pest removal services to residential and commercial pest control customers in Magalia, CA. We'll help find and remove pests of all kinds, including flies, fleas, roaches, bed bugs and more!
Our team is also equipped with the knowledge and tools required to handle larger pests like mice and squirrels. After we eradicate your pests, we'll identify problem areas on your property and secure them to prevent future infestations.
Quality Lawn Work and Treatments
In addition to interior pest removal, we also offer lawn care services and treatments to keep the exterior of your property pest-free, as well! We'll mow, trim, edge, weed and fertilize to prevent pests from inhabiting your lawn.
To get a free estimate for pest or rodent control and removal in Magalia, CA, contact us at 530-624-5390 today.